EUGO Race for Education 5K/1M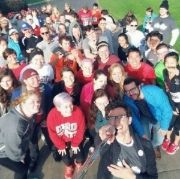 The Race for Education is a walk/run fundraiser for I Know I Can, a Columbus nonprofit organization that prepares Columbus city students for post-secondary education. Similar to EUGO's mission to engage college students in service, community, and academic success, I Know I Can seeks to "inspire, enable and support Columbus City Schools students in pursuing and completing a college education."
The 2015 walk/run brought out over 100 participants from the Greater Columbus area and the broader Ohio community. Runners raised $1,200 for charity with friends, family and plenty of cool, autumn sunshine! All proceeds go to I Know I Can. You can find photos from the 2012 , 2013, and 2014 races online.
Please visit the I Know I Can website for more information.
SIGN UP: Sign up here!
DATE: Friday, October 21, 2016
TIME: 5:00 PM
LOCATION: Fred Beekman Park
The Ohio State University
2200 Carmack Road
Columbus, Ohio 43210
COST: $12
PARKING: Parking map
CONTACT: Zach Maiorana
osu.eugo@gmail.com
A 5K is 3.1 miles. The 5K is open to all interested runners and joggers. Walkers will participate in a 1-mile walk.
If you are unable to attend, but would still like to support our cause, please send donations to 421 Denney Hall, 164 West 17th Avenue, Columbus, OH 43210. Please note: donations will not be accepted through the sign-up website.
Miss out on pre-registration? No problem! You can still register on race day! Find us at the check-in tables for more information.
Interested in advertising the race at your workplace? Please contact us for posters, digital fliers, and sponsorship letters.